Cultural expressions of peace that look beyond religion to the basic values all humans share can promote peace. Events can be designed to  appeal to a wide audience and form a meeting place for people of many different backgrounds to come together.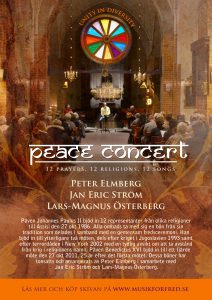 Retreat director and musician Peter Elmberg (center, vocals) set out to create a  music event that would reflect the universal quality  of peace and be appropriate to be performed in churches , mosques, synagogues etc. as well as at public halls and at events at his retreat center.
Peter created a concert based on the twelve poems chosen by representatives of the twelve different religions invited  to  meet in the Franciscan Monastery of Assisi  by Pope JOHN PAUL II in 1986, the UN year of peace.
The Peace Concert performs twelve songs and twelve prayers set to music. Each song transforms into a prayer that everyone is invited to join in singing.
The prayers for peace come from sources that are Christian, Jewish, Zoroastrian, Muslim, Baha'i, African traditional, Hindu, Sikh, Jain, Buddhist,  Native American Indian and Shinto.
Peter and his musicians have performed the concert many times in packed churches and halls. Concert-goers in Sweden and Norway have appreciated hearing the various strands of the peace message woven from a wide range of cultural sources. One called it "a beautiful manifestation of human goodness expressed by twelve of the world's most prominent religions".
Read more:
Video Now is the time with Peter Elmberg