Please spread the word that we are holding an Investment dialogue together with Re Equity Partners and Sustainable Sweden. It promises to be a fascinating evening where we invite you along the journey we took to create our Investment Framework.
RE Equity Partners invites you to take part in a dialogue exploring how to deliver the Sustainable Development Goals and beyond towards peace, inspired by the four-year consultative process of creating our Impact Investment Framework.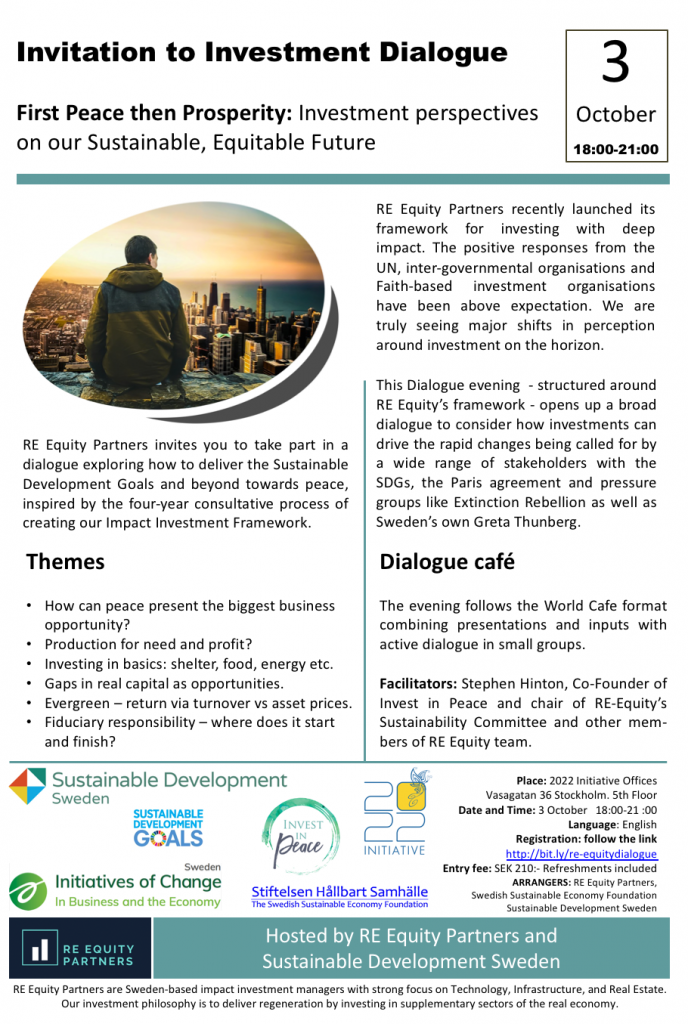 Details
Place: 2022 Initiative Offices Vasagatan 36 Stockholm. 5th Floor
Date and Time: 3 October 18:00-21 :00
Language: English
Registration: follow the link
http://bit.ly/re-equitydialogue
Entry fee: SEK 210:- Refreshments included
ARRANGERS: RE Equity Partners,
Swedish Sustainable Economy Foundation
Sustainable Development Sweden
Dialogue Themes
How can peace present the biggest business opportunity?
Production for need and profit?
Investing in basics: shelter, food, energy etc.
Gaps in real capital as opportunities.
Evergreen – return via turnover vs asset prices.
Fiduciary responsibility – where does it start and finish?
RE Equity Partners recently launched its framework for investing with deep impact. The positive responses from the UN, inter-governmental organisations and Faith-based investment organisations have been above expectation. We are truly seeing major shifts in perception around investment on the horizon.
REGISTER HERE
Follow this link: http://bit.ly/re-equitydialogue
This Dialogue evening – structured around RE Equity's framework – opens up a broad dialogue to consider how investments can drive the rapid changes being called for by a wide range of stakeholders with the SDGs, the Paris agreement and pressure groups like Extinction Rebellion as well as Sweden's own Greta Thunberg
Dialogue café
The evening follows the World Cafe format combining presentations and inputs with active dialogue in small groups.
Facilitators: Stephen Hinton, Co-Founder of Invest in Peace and chair of RE-Equity's Sustainability Committee and other members of RE Equity team.
Our Partners and Stakeholders

Download the full invitation here in .pdf format