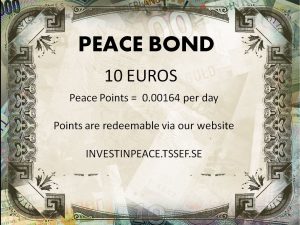 Invest in Peace has the idea to create a prototype crowdfunding platform. The service is at concept phase. You you can get an idea of how it is intended to work from this video.
The purpose of the platform is for people to invest their money in helping NGOs working for peace. The money Invest in Peace collects will be lent to NGOs to help them build up their operations.
The loans are interest-free, but bond holders will get bonus points, which can be redeemed in the points store. Participating NGOs offer their products and services for redeemable points.
To try the system out, go to our test site by  following this link
Sign in using the name: test

Password: test
Your test account has an overdraft facility so you can go to the catalogue to browse items and redeem them against Peace Points. Search the classified Ads section. You can enter advertisements for your own things as well.
Contact us if you would like to help out with developing this investment platform.
Beneficiaries will be Peace Bank Members. Contact us if you would like your organisation to join.